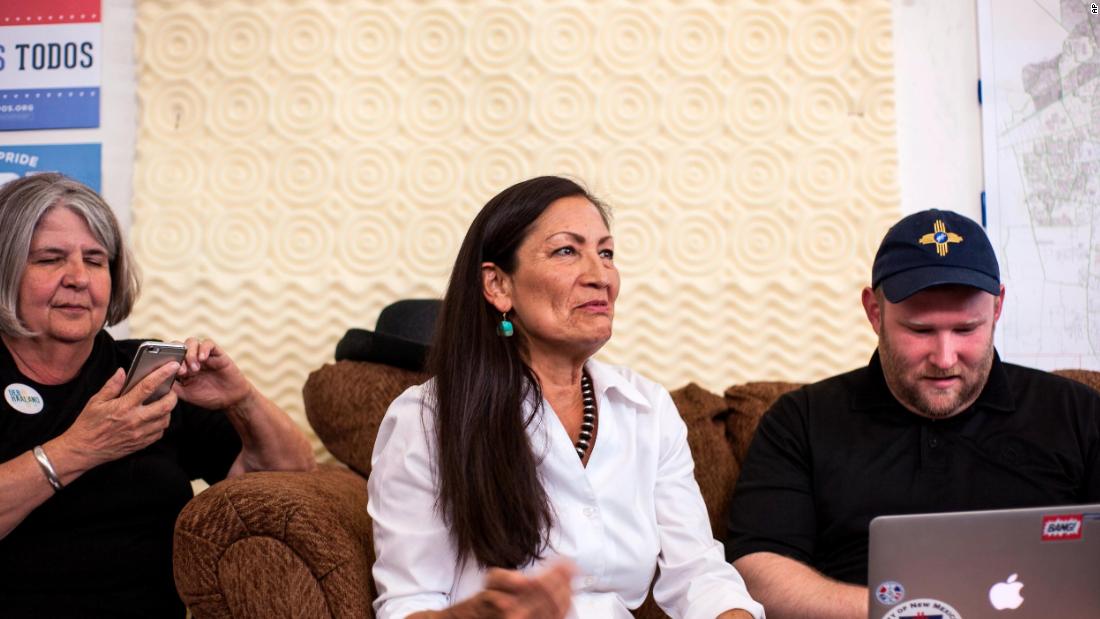 (CNN)Deb Haaland has won the primary for New Mexico's 1st Congressional District, CNN projects, putting her on track to become the first Native American woman in Congress.
"Tonight, New Mexico made history," Haaland said in a speech Tuesday, calling hers a "victory for working people, a victory for women and a victory for everyone who has been sidelined by the billionaire class."
She included a message for the White House.
"Donald Trump and the billionaire class," she said, "should consider this victory a warning shot: the blue wave is coming."
There are 23 tribes in New Mexico, according to the state's Indian Affairs Department, and Native Americans make up a little more than 10% of the total population.
Haaland will face Republican Janice Arnold-Jones, who ran unopposed, in November.
The congresswoman they'll be vying to replace, Lujan Grisham, easily beat out a pair of male candidates in her primary and will go on to face GOP nominee Rep. Steve Pearce.
Both Lujan Grisham and Pearce are leaving Congress in hopes of following the first — and so far only — Hispanic woman elected governor from either party, term-limited Republican Susana Martinez.
The Democratic Governors Association, in a statement late Tuesday, touted Lujan Grisham as a trailblazer, while taking a shot at Martinez.
"It's time for New Mexico to turn the page," association Chairman Jay Inslee said in a statement, pointing to "disastrous Republican policies that have stifled economic growth and prevented too many children from receiving a quality education."
Lujan Grisham echoed that in a tweet after the race was called, calling her win "a giant step towards respecting our teachers. Our educators, our teachers, they are sacrificing so much for our future, so let's finally give them the raise they warrant."
The Republican Governors Association, meanwhile, called Lujan Grisham the "the worst kind of politician," accusing her of ethical violations — a charge she parried during an intense Democratic primary — and a spirit of "extreme partisanship (that) would divide the state."
Read more: https://www.cnn.com/2018/06/06/politics/new-mexico-primary-deb-haaland-michelle-lujan-grisham/index.html
Please follow and like us: